Nreal Air Augmented Reality glasses. Get set for big screen viewing and an immersive gaming experience everywhere you go with the all new. Free shipping Vietnam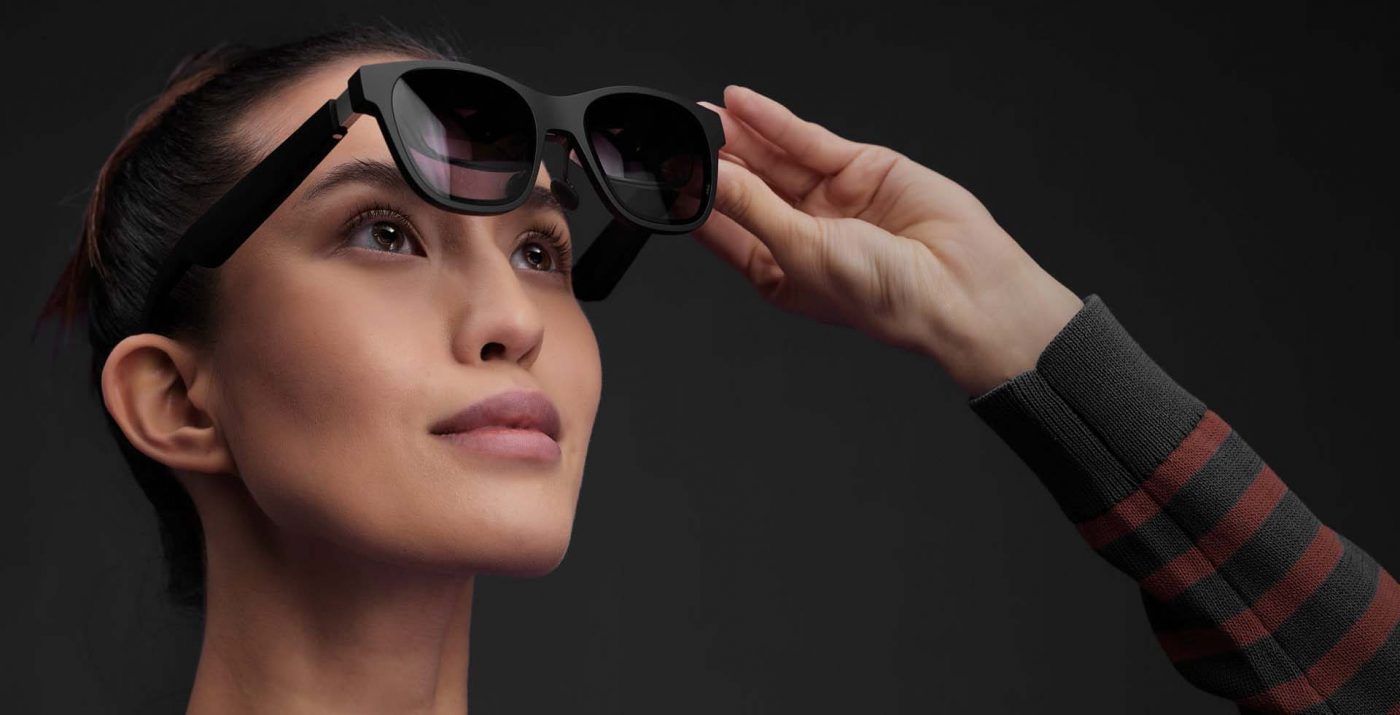 Nreal Air - The AR experience
The key difference between the Nreal Air and the likes of the other VR headset is the display tech on offer; while the Quest 2, Vive Follow, Goovis… offers a VR-esque experience with a completely blacked-out display, the OLED displays within the Nreal Air frames are semi-transparent, allowing you to see the world around you.
As the name suggests, Air Casting mirrors your connected smartphone to a virtual 130 inch display that appears roughly 4m in front of your eyes.
* Deploy a 130-inch virtual screen at a virtual distance of 4 m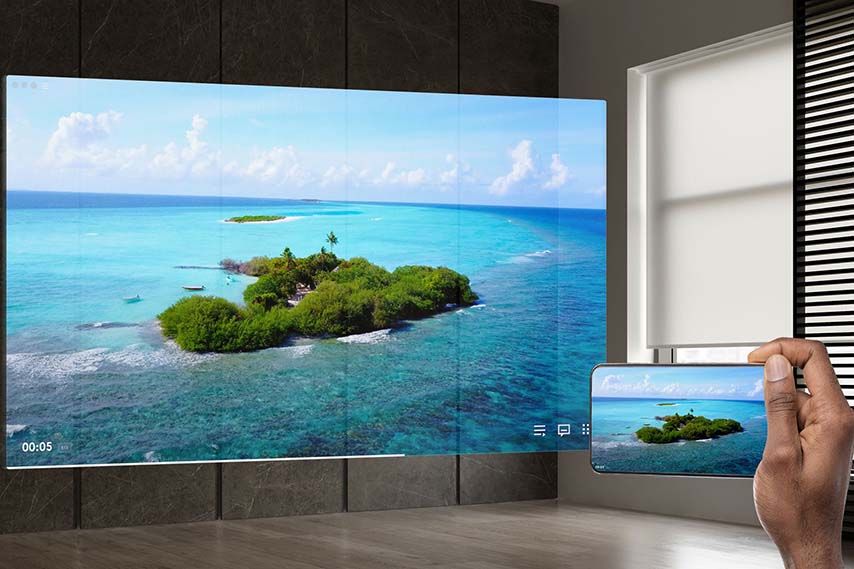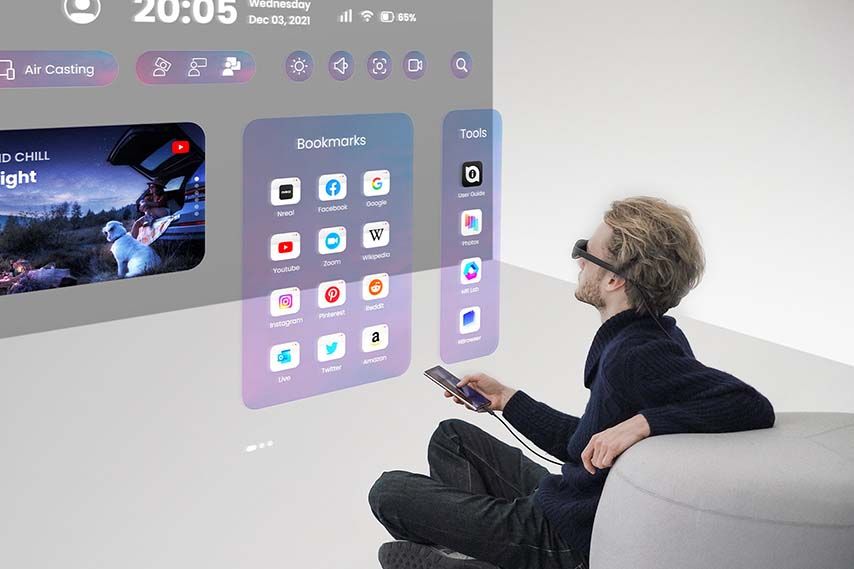 The MR Space is undoubtedly the more visually impressive of the two modes available, displaying a transparent mixed reality interface with access to basic apps, webpages and other functions. Without a dedicated controller, your smartphone doubles up as a virtual pointer, allowing you to interact with the interface rather intuitively.
Please ensure your mobile phone is compatible with Nreal Air AR glasses before you purchase. Check the full handset compatibly list in the technical specifications below.
Form Factor & Comfort:

148mm x 52mm x 159mm (opened)
148mm x 52mm x 60mm (folded)
3-Position adjustment for optimal gaze angle
Head width from 120-186mm

Power:

Up to 5 hours video streaming in Air Casting mode*

Display:

OLED
3840 by 1080 pixels with sRGB 108% color gamut, 8-bit depth for 16.773 million colors
Up to 400 nits perceived brightness
100,000:1 contrast ratio
~46 degree FoV, 49 pixels per degree (PPD)
130″ at 4m (Air Casting Mode), 201″ at 6m (MR Space Mode)
Fingerprint resistant coating, anti-reflective coating

Audio:

2 open-ear speakers
Dual microphone array, omnidirectional MEMS microphones
Bass boost, virtual rendering
Echo cancellation, noise cancellation, beamforming, speech enhancement

Controls & Sensors:

Screen on/off button
Screen brightness adjustment button
Accelerometer, gyroscope, magnetometer
Proximity sensor
Easy to install and connection
Kính thông minh Nreal Air sử dụng đơn giản như đeo một chiếc kính râm thông thường với màn hình không bao gồm hết tất cả trường nhìn của mắt nên bạn có thể tận hưởng trải nghiệm của kính một cách an toàn mà không cần phải setup không gian sử dụng như các kính thực tế ảo khác.
You can use it just by wearing it like sunglasses. Since the field of view is not completely covered, you can enjoy it safely wherever you use it.
Simply connect the Nreal Air cable to your smartphone to complete the connection.
Một số câu hỏi thường gặp với Nreal Air
Kính thông minh Nreal Air là một thiết bị có ngoại hình như một chiếc kính râm được kết nối với điện thoại thông minh. Kính được trang bị thêm màn hình để hiển thị ánh xạ các nội dung trên màn hình điện thoại (máy tính) lên kính giúp bạn tận hưởng nội dung một cách rảnh tay và giả lập một màn hình siêu lớn.
Nreal Air có phải là kính thực tế ảo không?
Kính Nreal Air có một số tính năng giống với kính thực tế ảo (VR) và kính thực tế tăng cường (AR). Tuy nhiên tại DroidShop là đơn vị chuyên sâu về thiết bị thực tế ảo thì chúng tôi không xếp Nreal Air vào kính thực tế ảo.
Chúng tôi gọi Nreal Air là một kính 3D thông minh vì kính chỉ có chức năng hiển thị các thông tin từ màn hình nguồn phát (điện thoại, máy tính…) lên màn hình trên kính mà thôi.
Kính Nreal Air được xếp vào nhóm kính 3D thông minh như kính Goovis
Tại sao kính Nreal Air phải kết nối với điện thoại?
Kính 3D thông minh Nreal Air không có pin hay bộ khuêch đại tín hiệu hình ảnh. Kính chỉ có màn hình, loa và micro. Các hoạt động phức tạp như cấp nguồn hay xử lý tín hiệu sẽ do điện thoại, máy tính của bạn xử lý.
Kính Nreal có dùng được với iPhone, iPad hay không?
Nreal Air có thể sử dụng với iPhone thông qua bộ phụ kiện Nreal Adapter
Traveling Case
Nreal Air
Nosepads
Light Shield
Prescription Lens Frame
USB-C Cable
Cleaning Cloth
Warranty 6 months
Free shipping Vietnam