Facebook's Ray-Ban Stories | Wayfarer Smart Glasses can be paired with a new Facebook View app in order to download and edit video and photos taken using the glasses. Ray-Ban Stories Wayfarer integrates the best of your phone with the timeless frame, bringing you a new way to capture and share your adventures.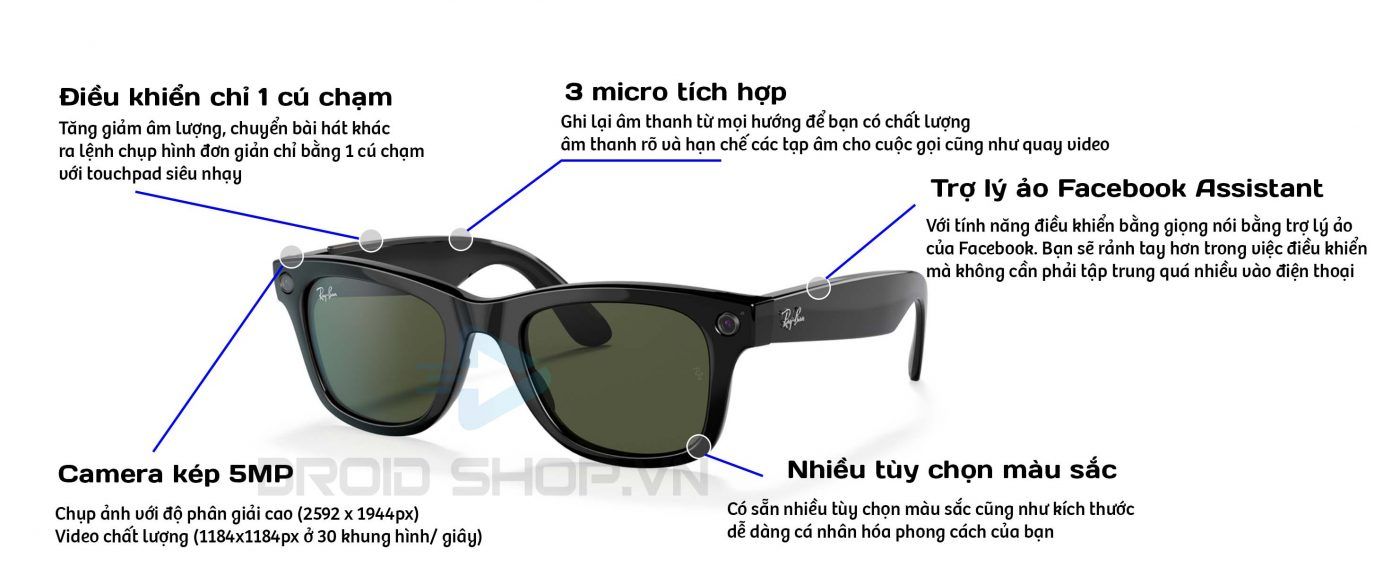 Dual 5MP Camera
The dual cameras on the glasses are a modest 5MP, capable of taking photos at 2,592-by-1,944-pixel resolution with a 105-degree field of view.
The Stories also take square video at 1,184 by 1,184 pixels and 30 frames per second. All exposure settings are handled automatically by the glasses, and there are no options available to tweak in the app.
Take photos and videos hands-free and stay immersed in the moment. Capture from a first-person perspective and enjoy consistently high quality content thanks to the automatic light adjustment and stereoscopic photo depth.
Touch Control
Pause your song, take a photo or record a video in a single touch with the hyper-responsive touchpad and capture button.
A touch-sensitive surface on the outside of the right temple provides call, playback, and volume controls through different taps and swipes.
Audio
Once paired, the Ray-Ban Stories also serve as Bluetooth headphones.
Aside from shooting photos and videos and listening to music, you can also make calls with the Stories. The audio balance of the glasses means that voices come through very clearly. The microphone also works quite well, but it has some significant Bluetooth artifacts and can sound slightly distant. It's better than the microphones on most true wireless earphones, but it isn't exactly pristine.
Charging Case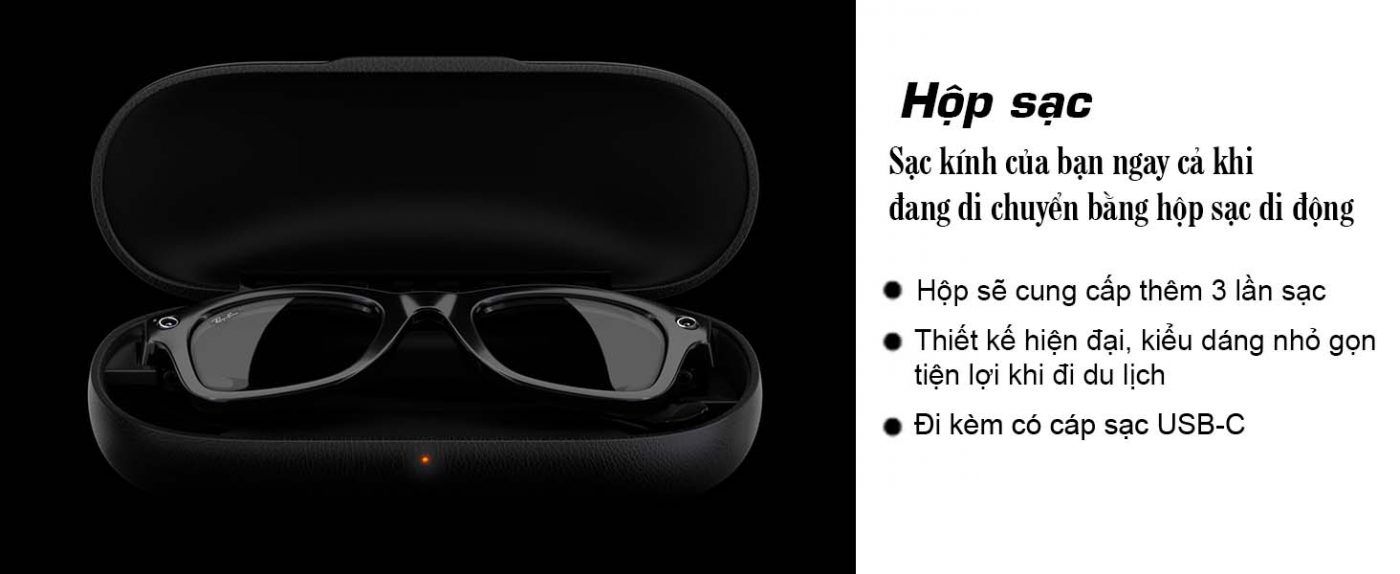 The glasses fit snugly in the included hard-shell charging case, which is slightly bulky but stylish. It's wrapped in black faux leather, with a debossed Ray-Ban logo on the top.
The inside has special recesses for a secure fit, and to align the charging points on the glasses (on the right hinge, with the glasses folded) with those in the case. A USB-C port on the back of the case charges the battery inside.
Ray-Ban Stories and Facebook View app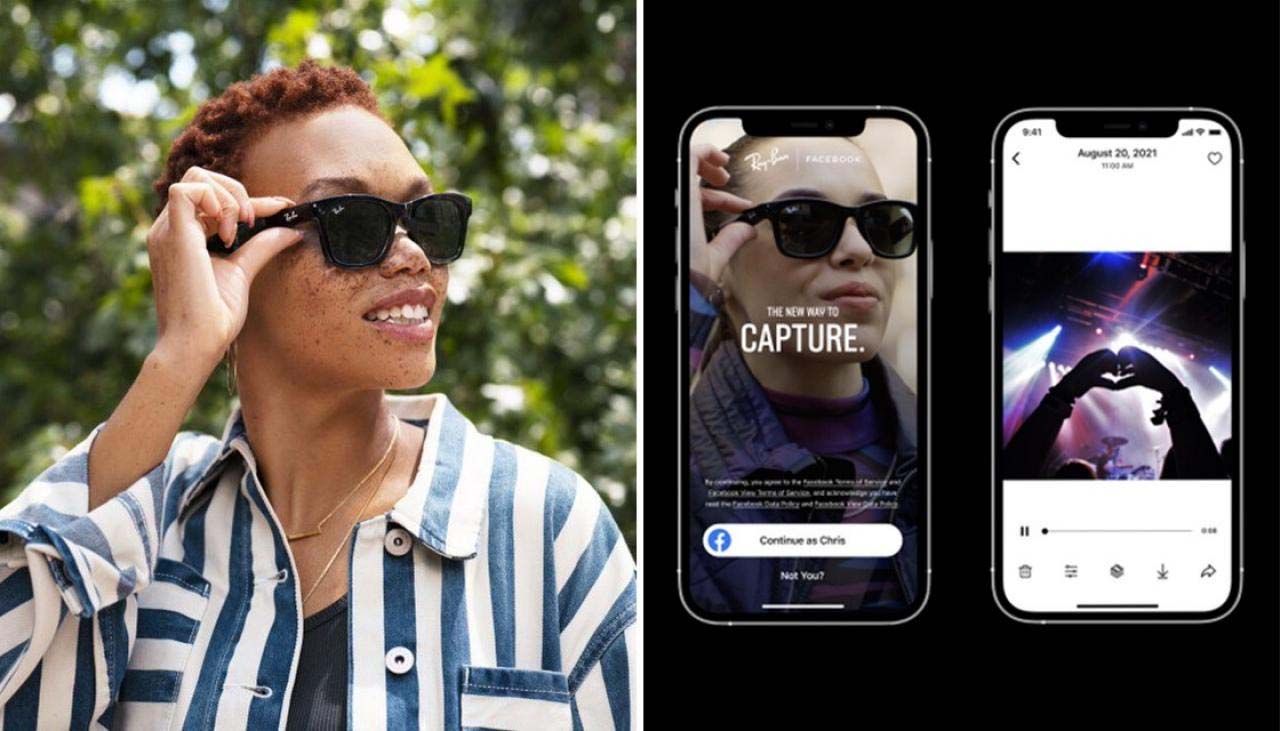 Facebook View is your smart glasses operating system and content sharing companion. Once you've downloaded the app and set up your Ray-ban Stories you can import and edit captures, create and share unique content, and manage settings. Download it from App Store or Google Play.
Compare Ray-Ban Stories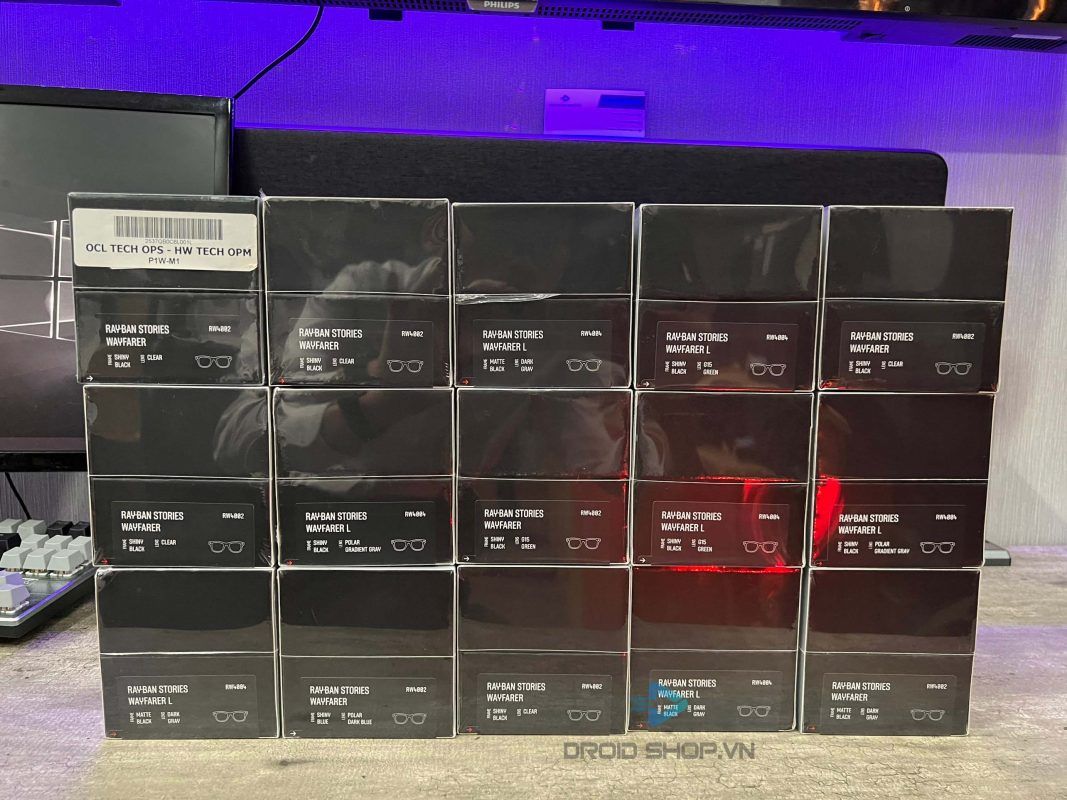 | | | | | |
| --- | --- | --- | --- | --- |
| Models | Ray-Ban Stories | Meteor | Ray-Ban Stories | Wayfarer | Ray-Ban Stories | Round | Ray-Ban Stories | Clear |
| Compatibility | IoS 13, Android 8.1 Minimum | IoS 13, Android 8.1 Minimum | IoS 13, Android 8.1 Minimum | IoS 13, Android 8.1 Minimum |
| Battery | Rechargeable | Rechargeable | Rechargeable | Rechargeable |
| Memory Capacity | 500 Photos or 100 15s Vids_4gb | 500 Photos or 100 15s Vids_4gb | 500 Photos or 100 15s Vids_4gb | 500 Photos or 100 15s Vids_4gb |
| High Resolution Images | Up To 2592 x 1944px | Up To 2592 x 1944px | Up To 2592 x 1944px | Up To 2592 x 1944px |
| High Quality Video | Up To 1414 x 1414px at 30fps | Up To 1414 x 1414px at 30fps | Up To 1414 x 1414px at 30fps | Up To 1414 x 1414px at 30fps |
| Audio System | Speaker Open Air, Mic Array | Speaker Open Air, Mic Array | Speaker Open Air, Mic Array | Speaker Open Air, Mic Array |
| Voice Control | Yes | Yes | Yes | Yes |
| Frame / Lens Material | Acetate / Polycarbonate | Acetate / Polycarbonate | Acetate / Polycarbonate | Acetate / Polycarbonate |
| Color Options | Black, Olive, Brown, Blue | Black, Olive, Brown, Blue | Black, Olive, Brown, Blue | Black, Olive, Brown, Blue |
| Blue Light Lens Options | No | Yes | Yes | Yes |
| Size | Standard (51mm) | Standard (50mm), Large (53 mm) | Standard (48mm) | Standard (50mm), Large (53 mm) |
| Transition Lens Options | Yes | Yes | Yes | Yes |
In the box
Ray-Ban Stories | Wayfarer Smart Glasses
Charging case
Microfiber pouch
USB-C charging cable
Warranty 6 months
Free shipping Vietnam