BOBOVR M2 Head Strap for Oculus Quest 2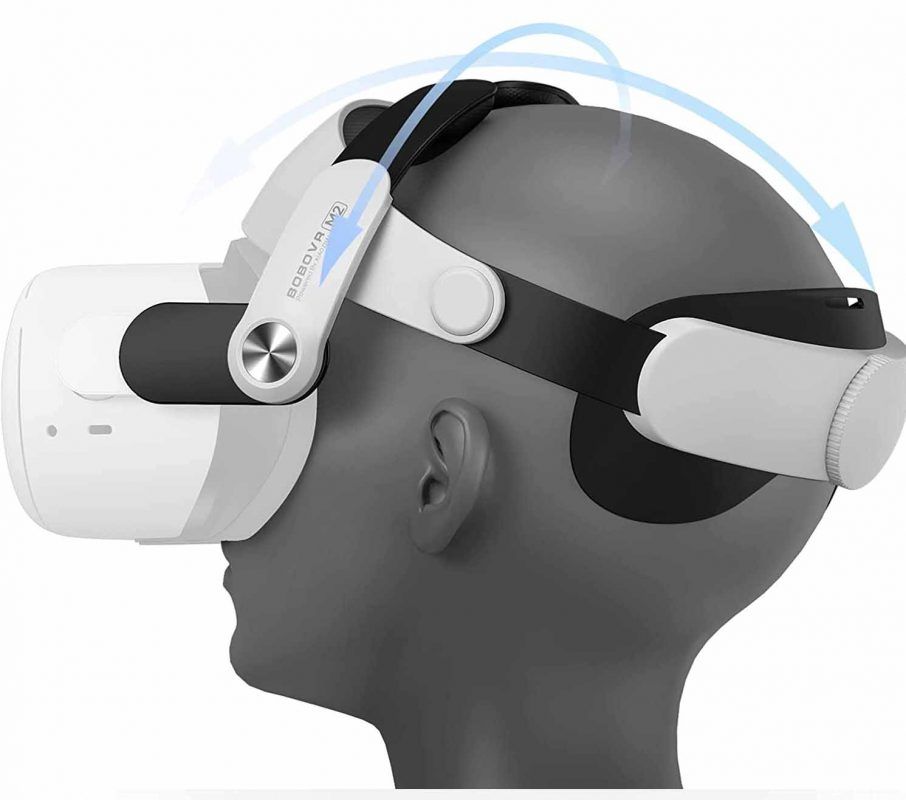 Uniform design style, ergonomic design improves wearing comfort (please read the wearing instructions carefully after receiving it)
Adopts the distributed design of gravity balance, so that the gravity of the product is evenly distributed in different positions of the head, greatly reducing the sense of pressure on the face
Design has 5 different nodes that can be adjusted, you can freely adjust to the most comfortable state to adapt to the different size of the head
Contact part is made of soft foam pad and skin-friendly leather, which is soft in texture under the condition of increasing friction and easier to clean
The strap is made of high-quality ABS + PC mixed plastic material, which has both hardness and toughness, which greatly reduces the risk of fracture
BOBOVR C2 Carrying Case for Oculus Quest 2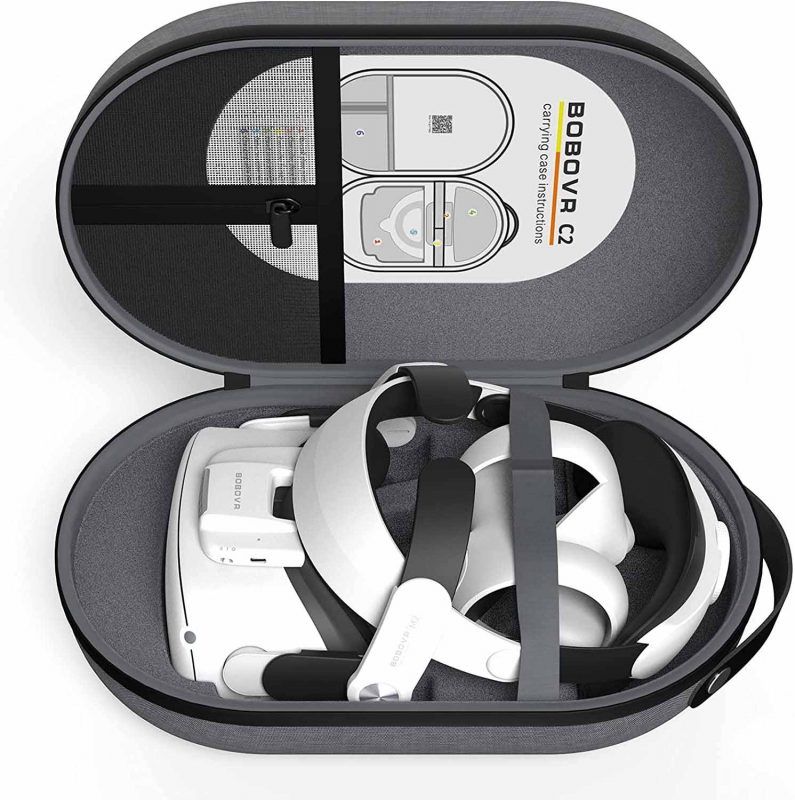 The C2 carrying case specially designed for Quest2 and BOBOVR M2 has high compatibility and large storage space. As long as the height of the headband is less than 15cm (6 inches), you can put it in. Compatible with official Elite headbands and various types of straps (but currently does not support DAS straps)
It adopts a concise design language, consistent with the original style to the greatest extent, taking into account both the appearance design and practical functions.
The surface of the Case is made of beautiful textured fabric materials, and uses 6.5mm thick EVA material, with a pebble shape, which is resistant to fall, impact, dust and splash, and better protects your beloved Quest2
The inside of the case is reasonably divided into multiple areas, which can accommodate the Quest2 host and controller equipped with a big head strap, and is equipped with a storage bag, which can be loaded into the data cable/charging head, etc.
The C2 carrying case External dimensions : 380mmX242mmX160mm / 15 in X9.5 inX6.3 in
BOBOVR F2 Active Air Circulation Facial Interface for Oculus Quest 2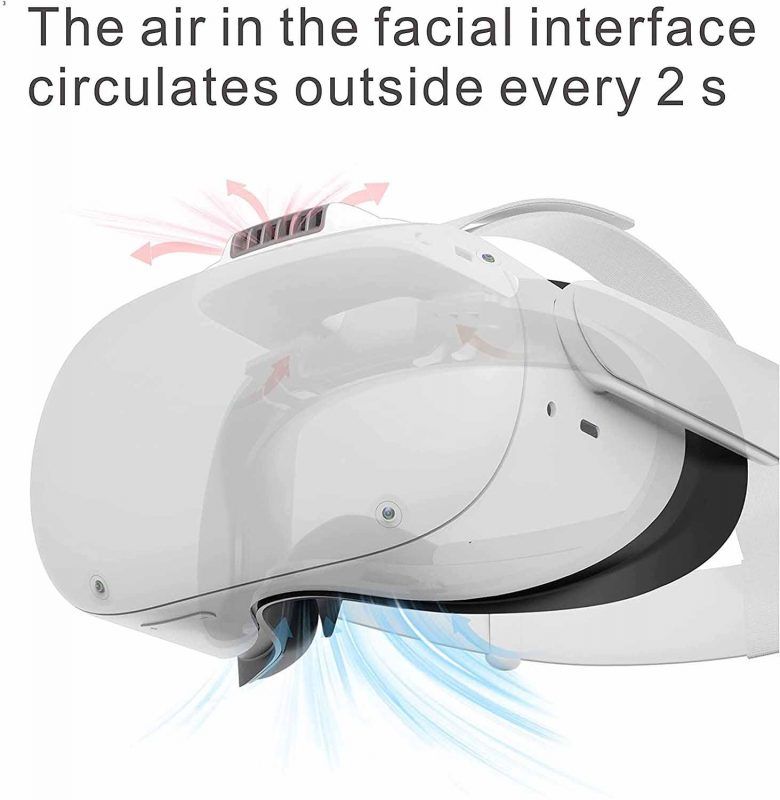 Adapted to oculus quest2, Includes a replace the Official Facial Interface and a rechargeable micro silent ventilation host,Replace face cover and face pad
Active ventilation system: equipped with a micro turbo fan, which can quickly exhaust the air in the mask, prevent the lens from fogging, and relieve heat accumulation
Support Type-c interface charging (same as the official charging interface of quest2), the micro turbo fan can work continuously for 3-5 hours when fully charged
The host weight is only 30g,2 levels of air volume are adjustable. In the high mode, The air in the Facial interface can circulate more than 30 times in 1 minute
Use softer PU leather and foam padding, which is easy to clean and keep dry. And use nose pads to prevent light leakage during use. The whole design is to increase your comfort and extend the use time.
BOBOVR M2 Pro Battery Pack Head Strap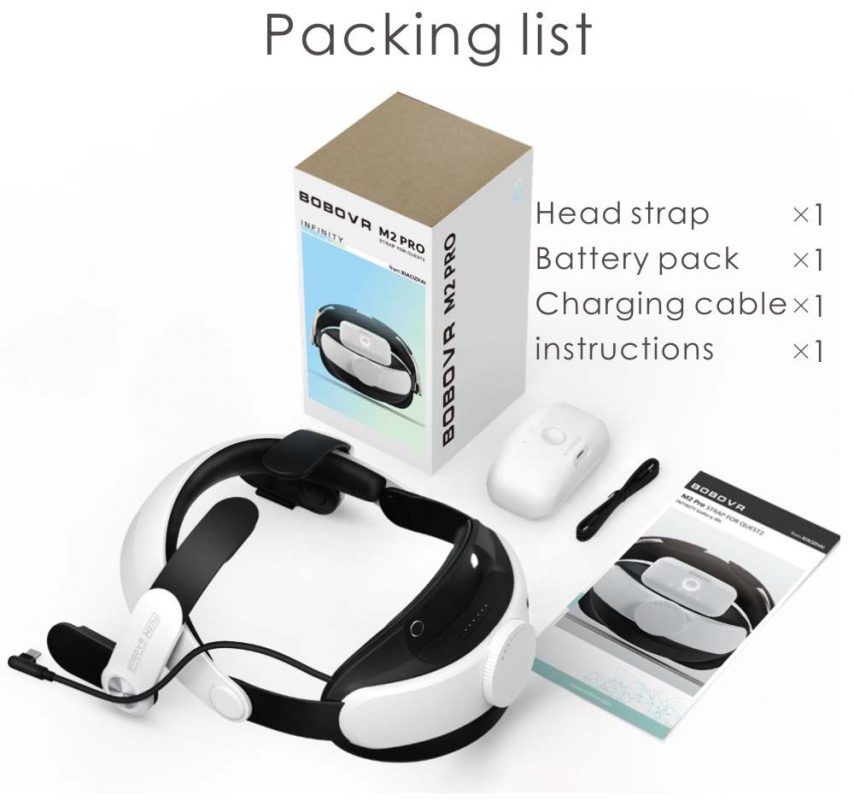 M2pro is a battery version head strap specially designed by BOBOVR for Quest2. The BOBOVR design team optimized many details on the basis of the original M2, which improved the overall comfort and practicality of the head strap
Power supply is more convenient: The battery pack adopts a magnetic quick-release design, and the battery can be detached and charged, which does not affect the use of VR host. Two battery packs are hot-swappable for unlimited battery life (the second battery pack needs to be purchased separately)
BOBOVR B2 Battery Pack – M2 Pro Replacement Spare Battery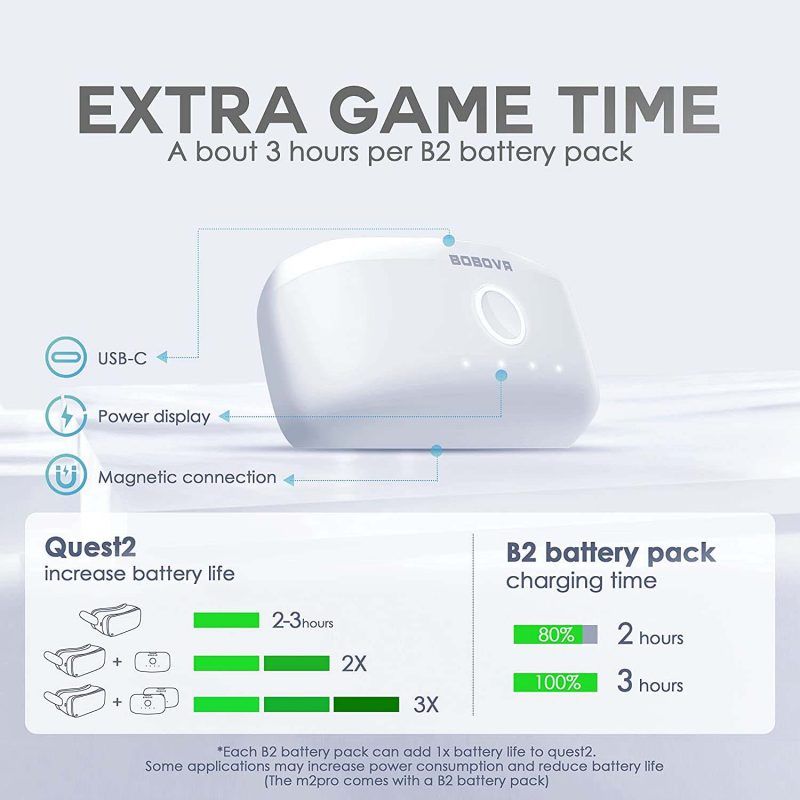 B2 is a replaceable battery pack specially designed for BOBOVR battery straps. The battery pack can be hot-swapped through magnetic attraction.
The weight is only 140g, which can better balance the front and back weight of the head, making it more comfortable to wear.
The 5200mah capacity allows Quest2 to achieve twice the battery life, and can be quickly replaced by multiple battery packs to achieve unlimited battery life.
The maximum charging and discharging power of 15W can keep Quest2 running while maintaining power. When B2 is exhausted, it can be fully charged with 80% power in 2 hours.
It has 4 power indicator lights, a halo working light, and multiple redundant safety designs.
BOBOVR D2 Charging Dock for Quest 2 and B2 Battery Packs

Minimalist and thin design, does not occupy desktop space, can simultaneously charge Quest2 and BOBOVR B2 battery packs magnetically
For the specially designed magnetic adapter for the battery strap, when D2 charges the Quest2 through the magnetic connector, there is no need to unplug the battery headband.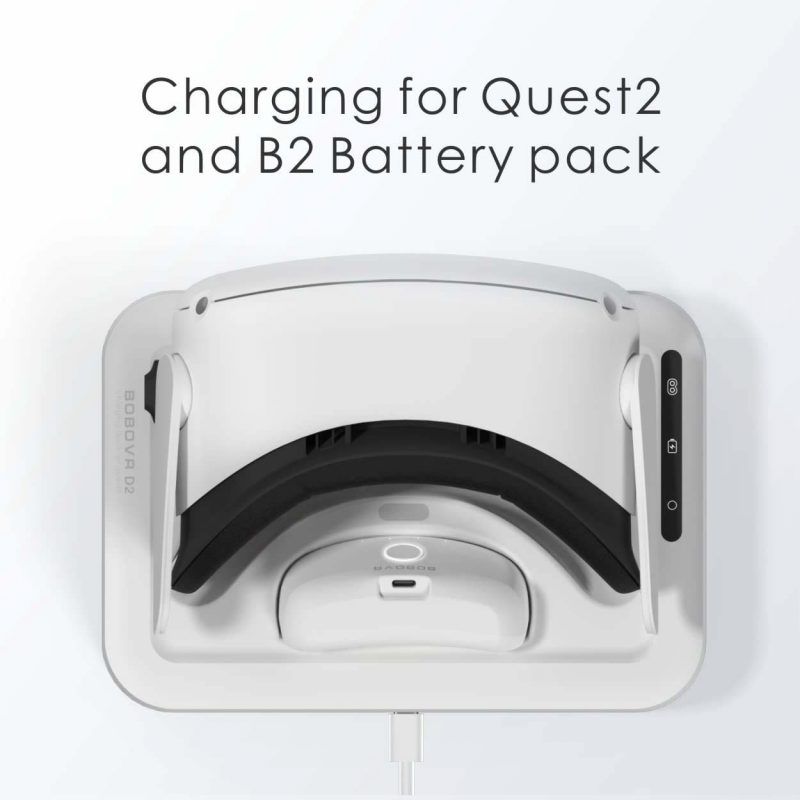 Using chip control, the device will automatically power off when it is full, and there is no need to worry about charging for a long time, and the maximum charging power can reach 15W
Multiple safety and redundancy design, dual-channel backup interface design, full indicator light will automatically turn off and power off (Quest2 may continue to charge during sleep update)
Note: 1/ Please do not connect to the PC through the expansion port when charging; 2/ Charging Quest2 and B2 at the same time may extend the charging time. 3/ USB charger is not included by default, you can use Quest2 charger or other Type-C charger