Thrustmaster TCA Yoke Pack Boeing Edition | Flight Stick & Quadrant Bundle is an aviation system officially licensed by both Boeing and Xbox, for Xbox One and Xbox Series X|S. It is also compatible with PC. TCA Boeing Edition, Thrustmaster's new flagship civil aviation range, is a line of products allowing for cutting-edge new features with a highly-specific goal in mind: replicating the different controls, flight kinematics and sensations experienced by real Boeing pilots at the controls of a 787 airliner.

Officially licensed by Boeing, this flight stick sports a 1:1 recreation of the airliner control mechanism, giving you a realistic feel as you soar amongst the virtual clouds. With a solid metal frame, you get stability and sturdiness while you turn with the 150° wheel rotation.
Suspended PENDUL_R mechanism
Thrustmaster's suspended PENDUL_R mechanism replicates the sensations of using a floor-mounted pendular yoke — like those found in real Boeing airliners — in an exciting new way. TCA Yoke Boeing Edition features a long 8.3-inch / 21-cm range of travel.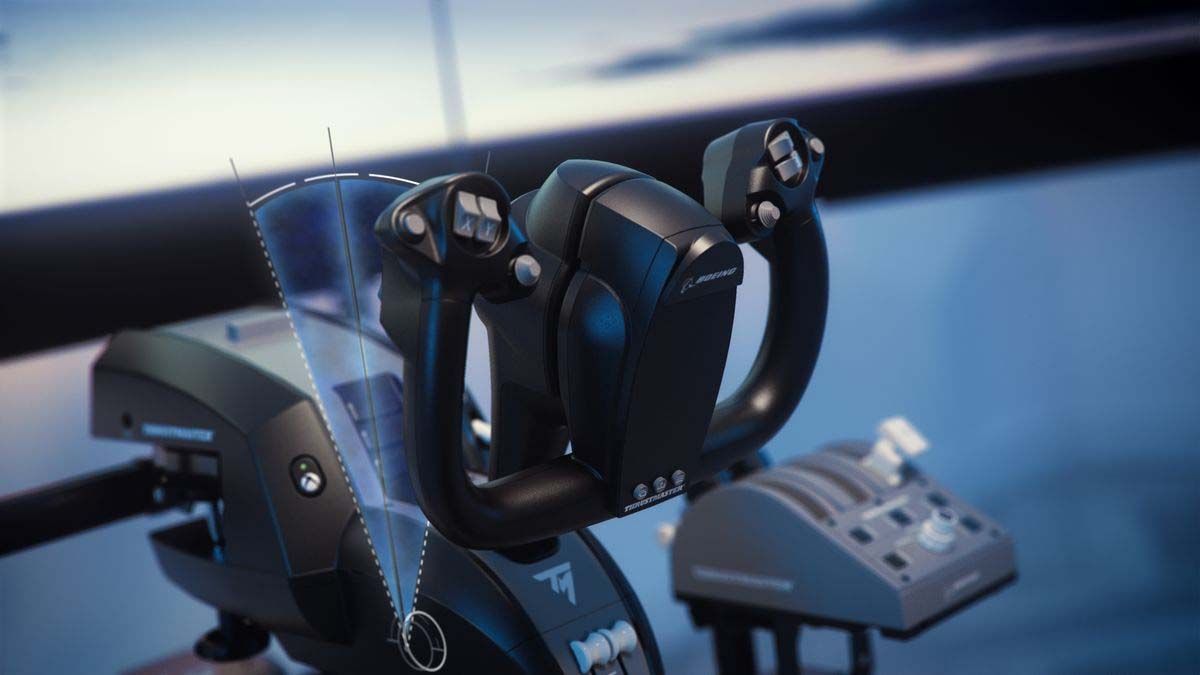 TCA Yoke Boeing Edition features 2 additional axes on its base, allowing for a variety of standalone maneuvers — including the ability to directly take off without having to use a throttle quadrant.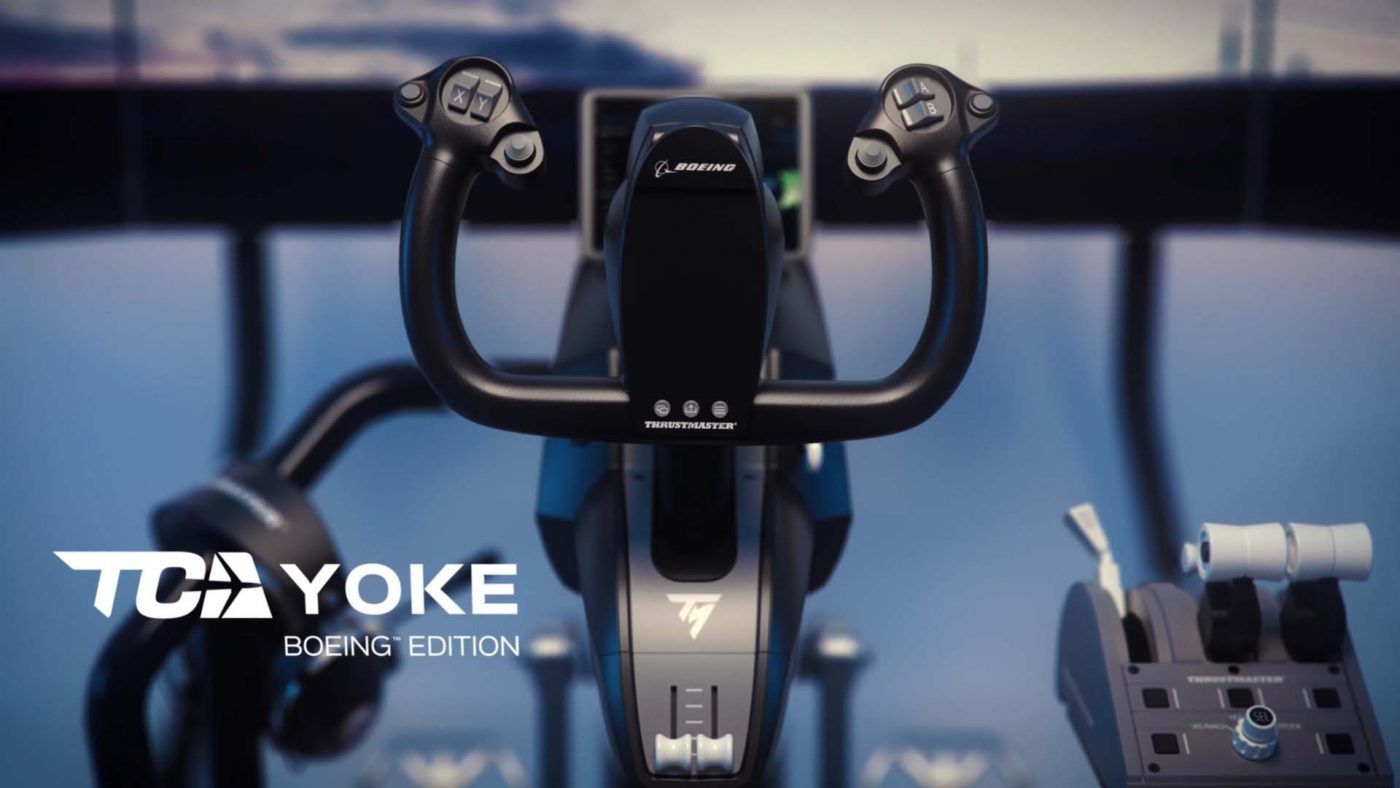 T.A.R.G.E.T. Software Compatible
Modify your controls with the free Thrustmaster Advanced Programming Graphical Editor (T.A.R.G.E.T.) software suite, giving you basic, advanced, and script modes so you can fine tune your flight experience.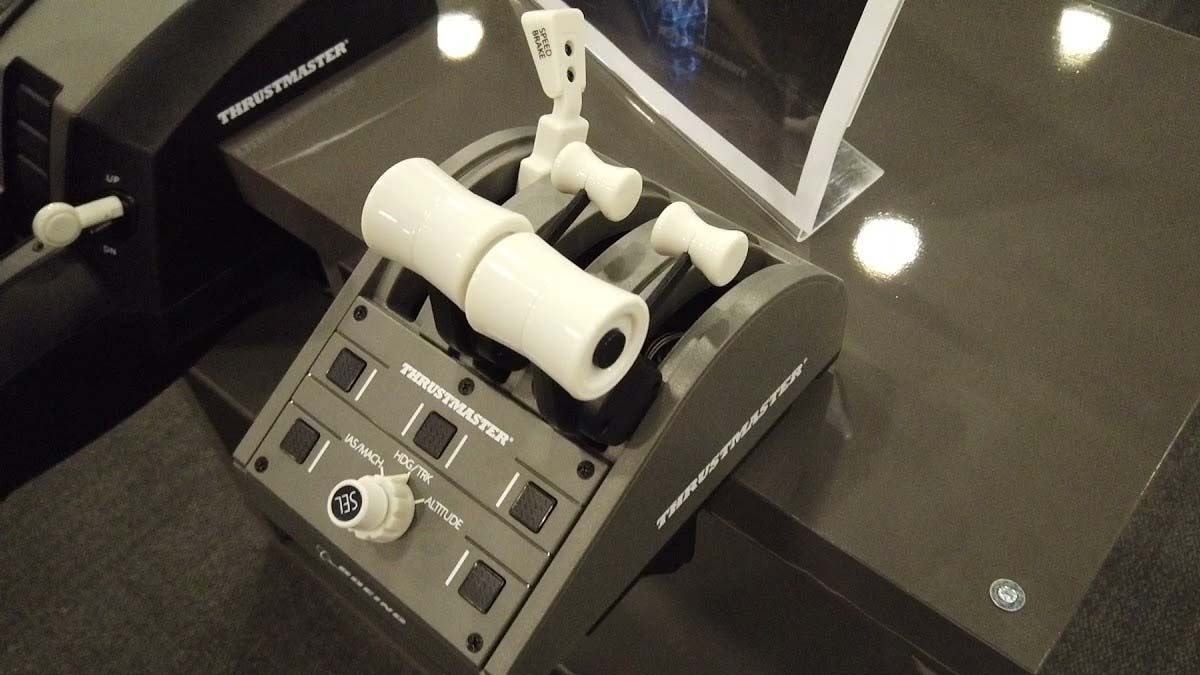 HallEffect AccuRate Technology (H.E.A.R.T.) is an exclusive control style that offers frictionless 16-bit resolution on all throttle quadrant axes for surgical precision, essential for lifelike flying.
TCA Quadrant Boeing Edition includes the iconic Boeing autopilot feature for realistic control of the aircraft's altitude, airspeed and heading. The design and operation of this rotary knob were also inspired by the real Boeing Dreamliner throttle quadrant.
All throttle quadrant levers (4 included) can be swapped, allowing for an ambidextrous flight experience thanks to the ability to place the speed brake and flaps levers in the user's choice of position.
In the box
1 x TCA Yoke Boeing Edition
1 x TCA Quadrant Boeing Edition
1 x TM Flying Desk Mount
Yoke: 1 x USB cable (type C to type A), 1 x support stand for tablet or smartphone, 1 x Allen key
Throttle quadrant: 4 x interchangeable levers, 1 x crossbar, 2 x attachment pieces
1 x connection poster, 1 x spring installation flyer
Warranty 6 months
Free shipping Vietnam