Thrustmaster has released the TCA Officer Pack Airbus Edition for anyone who likes to spend their flight-sim hours in an Airbus aircraft and who wants to do this realistically.
The side stick is an ergonomic replica of the joystick used to control the Airbus A320. The Throttle Quadrant has the typical capabilities of an Airbus aircraft and an Engine Panel inspired by the A320 Neo.
Naturally, the stick and throttle also work with all other types of aircraft.
Thrustmaster TCA Sidestick Airbus Edition
Thrustmaster also uses magnetic sensors in this flight stick, which makes it extremely accurate. When you don't have rudder pedals yet, the rudder is easy to operate using stick twist. A new feature for this type of joystick is 'rudder lock.' If you do have rudder pedals, you can mechanically disable the rotation of the stick, so you don't suffer from rudder input from your stick.
An ergonomic 1:1 scale replica inspired by the iconic Airbus sidestick, the TCA Sidestick Airbus Edition ensures unique handling
You can easily adjust the sidestick's configuration before each takeoff, to meet your requirements: captain, co-pilot, or with the sidestick in the central position for solo flight.
The throttle built into the base of the joystick includes a thrust reverser function, a unique feature on airliners. This is a major advantage in terms of helping you master related maneuvers, andensures that your landings are always perfectly controlled.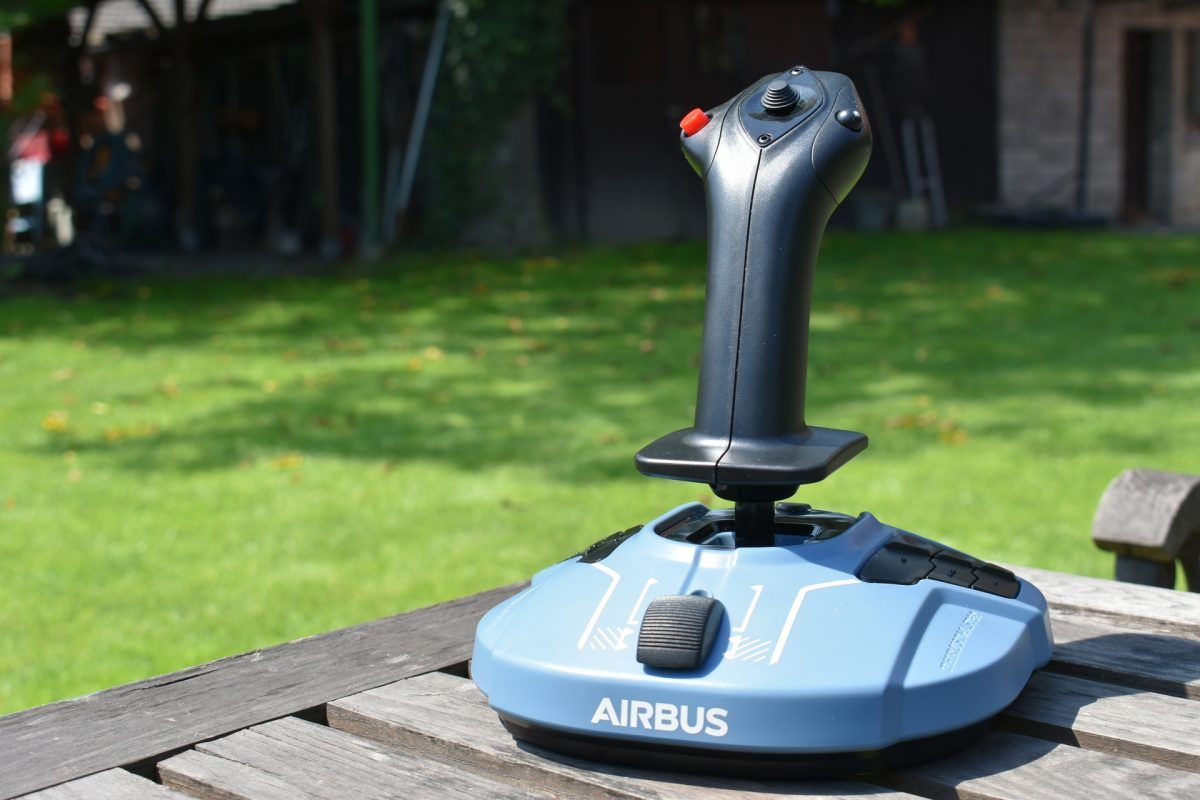 Thrustmaster TCA Quadrant Airbus Edition
The Airbus Throttle Quadrant has two separately operating thrust levers that are equipped with fully functioning thrust reverse levers and TO/GA buttons. The resistance of the Thrust Levers can be easily adjusted by tightening or loosening a resistance screw.
The TCA Quadrant Airbus Edition features two separate thrust levers, inspired by their real counterparts found on Airbus airliners.
For even more realistic use with four-engine aircraft (Airbus A380 type), two throttle quadrants can be linked together (additional throttle quadrant sold separately), giving you access to four thrust levers instead of two!
The TCA Quadrant Airbus Edition features 8 ergonomic physical action buttons (plus 8 virtual buttons on the thrust levers, for a total of 16), which are replicas of Airbus airliner controls (A320neo type).
Feel realistic sensations when using the throttle quadrant's buttons, detents and other controls — just like a real aircraft captain.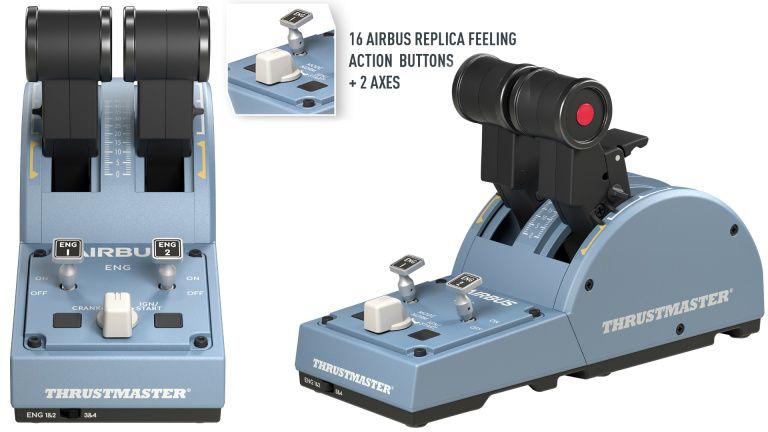 Compatible with Microsoft Flight Simulator 2020
The joystick and throttle are compatible with Flight Simulator 2020. Of course, this product also works with Flight Simulator X, Prepar3D and X-Plane 11, which means that this A320 hardware is also a great addition when you already own the Aerosoft A320/A321, for example.
In the box Thrustmaster TCA Officer Pack Airbus Edition
TCA Sidestick Airbus Edition
TCA Quadrant Airbus Edition
4 x swappable joystick head button modules
USB cable (type C to type A)
Connectors
Manual
Warranty bill 6 months