Unleash the best of PC VR gaming with Vive Cosmos Elite, a system Designed to offer unmatched precision tracking for Elite gamers. Combining high definition graphics, ergonomic engineering, and Modular features, cosmos Elite offers all the same refined capabilities as the original cosmos.
Flip-Up Design
The front of the headset can be flipped up to easily transition between the virtual world and the real world without having to take off the entire headset.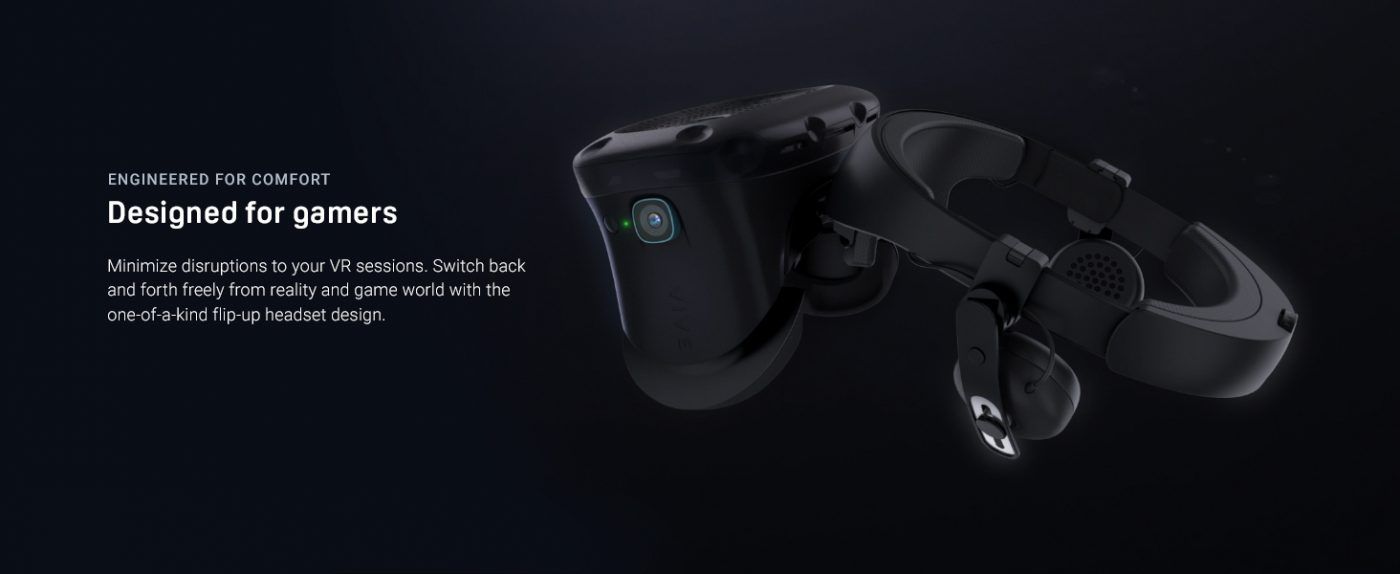 External Steam VR tracking and advanced controllers enable precision and freedom of movement. Swing a racket behind your head, crisscross your swords- moves at all angles are quicker and smoother. Absorb every detail with 2880 x 1700 combined Pixel resolution and minimize the screen-door Effect with the all-new LCD panels. Rich stereo audio is integrated into on-ear, form-fitting headphones. A Crown fit makes putting on the headset quick, easy, and adjustable. Build your own reality with a suite of Modular Options.
Specification of

HTC Vive Cosmos Elite
Screen
2 x 3.4″ / 8.6 cm, Diagonal
Resolution
Per Eye: 1440 x 1700
Combined: 2880 x 1700
Refresh Rate
90 Hz
Field of View
110° (Maximum)
Audio
Built-In Stereo Headphones
Input
Integrated Microphone
Headset Button
Connections
1 x USB 3.0 Type-A (or Later)
1 x DisplayPort 1.2
Proprietary Connection for Optional Faceplates
Sensors
G-Sensor
Gyroscope
Eye Comfort Setting (IPD)
Ergonomics
Flip-Up Visor
Adjustable Eye Comfort Setting (IPD)
Adjustable Head Strap
Tracking Area
Standing/Seated: No Minimum Space Requirements
Room-Scale: Up to 160 ft² (Approximately 11.5″ x 11.5″ / 3.5 x 3.5 m)
Controller
SteamVR Tracking

Micro-USB Charging Port

Vive Controller 1.0

Base Station
Vive Base Station 1.0
Controller Specs
Sensors
SteamVR Tracking
Input
Multifunction Trackpad
Grip Buttons
Dual-Stage Trigger
System Button
Menu Button
Connections
Micro-USB Charging Port
Tracking

| | |
| --- | --- |
| Standing/Seated: | No Minimum Space Requirements |
| Room-Scale: | Up to 160 ft² (Approximately 11.5″ x 11.5″ / 3.5 x 3.5 m) |
In the box

PC System Requirements
| | |
| --- | --- |
| Processor | Intel Core i5-4590 or AMD FX 8350 (Equivalent or Better) |
| Graphics | NVIDIA GeForce GTX 970 with 4 GB of RAM, or AMD Radeon R9 290 with 4 GB of RAM (Equivalent or Better VR-Ready Graphics Card) |
| Memory | 4 GB of RAM or More |
| Video Out | DisplayPort 1.2 or Newer |
| USB Ports | 1 x USB 3.0 Type-A or Newer |
| Operating System | Windows 10 |