HTC Vive Pro 2 FULL KIT – Virtual Reality System was developed to be a complete system that includes video, audio, and precise motion tracking. Designed for an immersive, room-scale virtual reality experience
The HTC VIVE Pro 2 Headset is the long-awaited upgrade to the popular VIVE Pro. If you're new to VR, this premium headset is geared to supporting the full range of available VR content at extremely high resolutions, including demanding PC VR titles.
Specs of HTC Vive Pro 2 FULL KIT
Screen
Dual RGB low persistence LCD
Resolution
2448 × 2448 pixels per eye (4896 x 2448 pixels combined)
Refresh Rate
90/120 Hz (only 90Hz supported via VIVE Wireless Adapter)
Field of view
Up to 120 degrees
Audio
Hi-Res certified headset (via USB-C analog signal)

Hi-Res certified headphones (removable)

High impedance headphones support (via USB-C analog signal)

Connections
Bluetooth, USB-C port for peripherals
Sensors
G-sensor, gyroscope, proximity, IPD sensor, SteamVR Tracking V2.0 (compatible with SteamVR 1.0 and 2.0 base stations)
Ergonomics
Eye relief with lens distance adjustment

Adjustable IPD

Adjustable headphones

Adjustable headstrap
Specs of Controller
Sensor
SteamVR Tracking 2.0
Input
·         Multifunction trackpad

·         Grip buttons

·         dual-stage trigger

·         System button

·         Menu button

Use per charge
Approx. 6 hours
Connections
Micro-USB charging port
Tracked Area Requirements
| | |
| --- | --- |
| Standing / seated | No min. space requirements |
| Room-scale | Up to 10m x 10m using four SteamVR Base Station 2.0. The included two base stations support up to 5m x 5m. |
The Highest Resolution So Far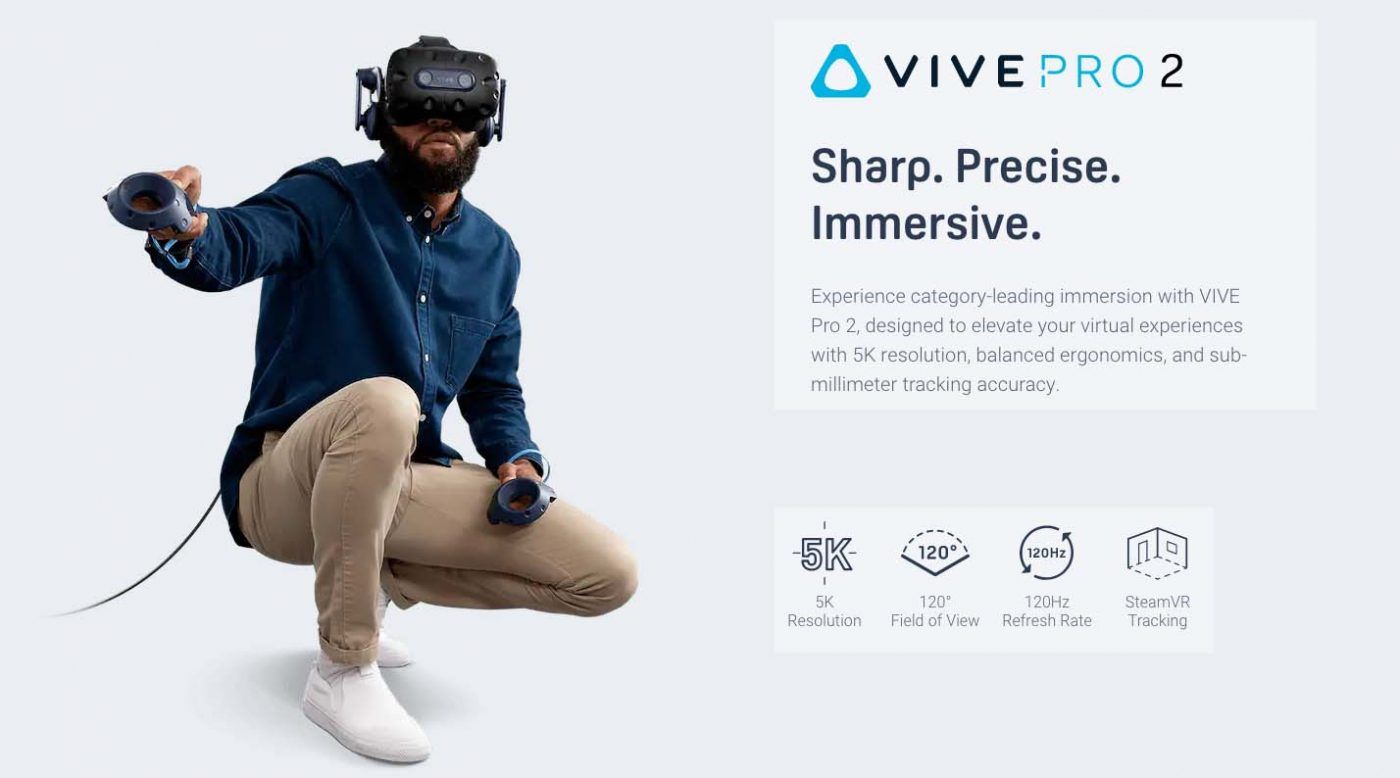 Visualize in 5K fidelity
Internally, the Vive Pro 2 displays 2,488 by 2,488 pixels to each eye, with a field of view of 120 degrees and a refresh rate of 90Hz or 120Hz. The resolution is the headset's main draw, a fairly massive bump from the Valve Index's 1,440 by 1,600 pixels per eye.
This kind of visual clarity can be enjoyed by nearly any kind of user, as the headset is made to be compatible with eyeglasses and provides an adjustable IPD setting.
IPD stands for interpupillary distance, which is the distance between the pupil centers of each eye. Being able to precisely dial this setting in helps with maximize visual quality for your specific needs.
Wide field of view
The VIVE Pro 2's lens setup expands the field of view to a wide 120°.
The increased width lets you spot enemies better with your peripheral vision and generally increases the overall immersive feeling in both VR gaming and experience titles.
For titles that support it, the headset's 120 Hz refresh rate further adds realism to your entertainment with smooth and realistic action.
Precision room-scale tracking

Stay in the moment with precision SteamVR™ Tracking that provides 360-degree coverage of your movement to the millimeter. Use VIVE Pro 2, seated, standing, or in a vast multi-user-friendly space.
Hi-Res-Certified Headphones and Ergonomic
Stay immersed in the virtual reality experience with the integrated Hi-Res Certified headphones. With 3D spatial sound integration and a powerful amplifier, the VIVE Pro 2 provides interesting soundscapes.
Regardless of your head's size and shape, the VIVE Pro 2 is made to feel comfortable during long VR sessions. The is done via the solid, padded head strap that cups the back of your head, and the integrated tightening control knob that lets you precisely dial in the headset's fit.
In the box
1 x VIVE Pro 2 headset
1 x All-in-one cable
1 x Cleaning cloth
2 x Earphone hole cap
1 x Link box (2.0)
1 x USB 3.0 cable
1 x DisplayPort cable
1 x Mini DP to DP Adapter
1 x Link box power adapter
2 x Controller (2018) with lanyard
2 x Micro-USB cable
2 x Power adapter
2 x Base station 2.0
2 x Base station power adapter
1 x Mounting kit
Warranty bill 6 months
Free shipping Vietnam