Fly commercial and private planes as a beginner or advanced pilot with precise, realistic control. The Logitech Flight Yoke System is the hero of flight simulation with five total axes, stainless steel elevator and aileron control shaft, and 25 fully programmable buttons and switch positions.
The Flight Yoke System from Logitech includes a Flight Yoke and a Throttle Quadrant system for piloting an aircraft in the flight simulator of your choice.
Flight Yoke –

Pro-Grade Yoke
A real stainless steel shaft with precision bearings gives you smooth, predictable elevator and aileron control. Navigate front-to-back, side-to-side or vertical axes with controls at your fingertips.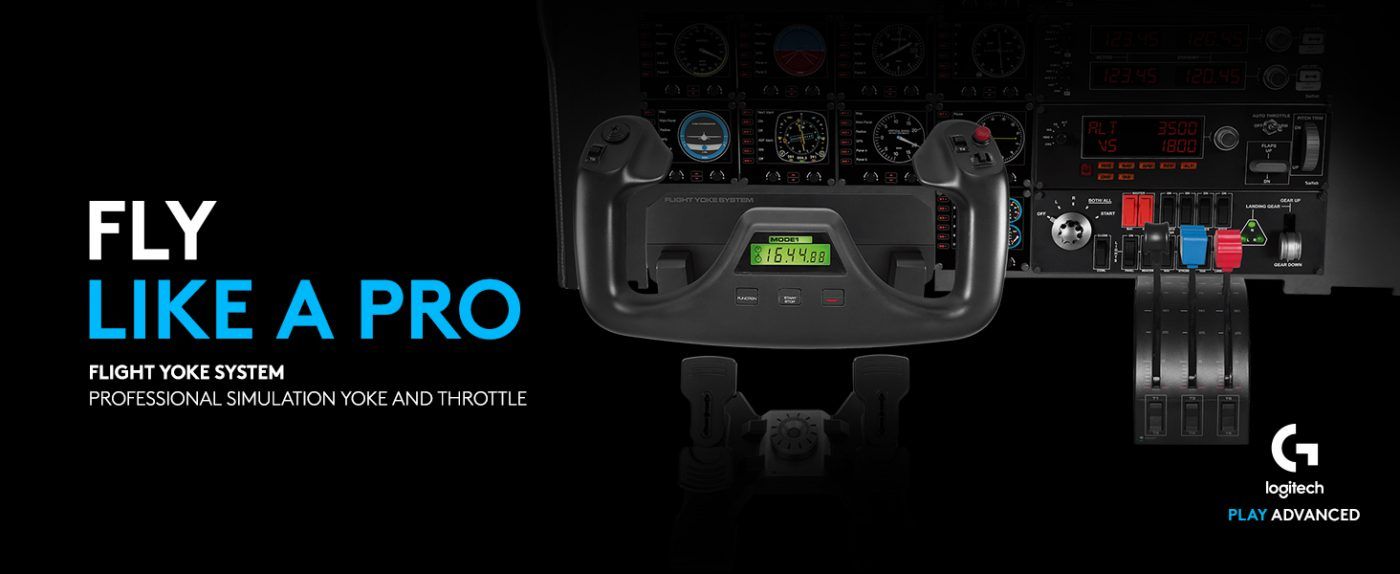 The Flight Yoke is crafted with a durable stainless steel shaft and has precision bearings for smooth and predictable elevator and aileron control. Moreover, it features a built-in stopwatch that you can use to time approaches, as well as a USB hub for connecting additional USB peripherals.
Pro-Grade Throttle Quadrant
The Throttle Quadrant features three levers to control engines, flaps, gears, spoilers, or any other programmable axes. There are also three additional programmable two-way toggle switches located at the base.

Gain precise control over multi-engine aircraft with programmable, detachable levers. Arrange throttle, flaps, mixture or propeller pitch lever knobs in any configuration and assign sim commands.
75 Programmable Options
Together the Flight Yoke and Throttle Quadrant have a total of 25 buttons and switch positions that you can customize. After downloading the drivers and optional software, you can cycle through three different profiles for up to 75 user-definable controls.
Download software Flight Yoke System here
In the box Logitech Flight Yoke System
Flight Yoke System
Pro-Grade Throttle Quadrant
2 desk clamps
Warranty bill 6 months