The Thrustmaster T.16000M FCS Flight Pack has been designed for advanced fliers looking for comprehensive, realistic controls as an alternative to using a mouse and keyboard. Ergonomic design for optimum comfort and precision Thanks to its design and ergonomics, the T.16000M FSC FLIGHTPACK provides players with multiple recognizable features, allowing them to become more effective and accurate when in flight. This enhanced access to flight controls proves even more essential when players are fully immersed in the exceptional flight experience delivered by VR-compatible games. Intuitive and natural: feels just like sitting in the cockpit! 
Exclusive precision: H.E.A.R.T* HallEffect AccuRate Technology™! 3D (Hall Effect) magnetic sensors located on the stick (*US patent: US08471815)

Precision levels 256 times greater than current systems (16-bit resolution: 16000 x 16000 values!)
Magnets ensure friction-free action for razor-sharp precision that won't decrease over time
Helical spring (0.1″ / 2.8 mm in diameter) inside the stick providing firm, linear and smooth tension

Fully ambidextrous joystick!

3 removable components allow the joystick to be perfectly tailored for left-handed or right-handed use
Piloting with a joystick in each hand is now possible in all games compatible with two joysticks

16 action buttons with "braille"-style physical button identification!

12 on the base and 4 on the stick + one 8-way Point of View hat switch
Switch allowing users to configure the 12 buttons located on the base in a left- or right-handed position

4 independent axes, including twist rudder (controlled by rotating the stick)
Ergonomic trigger for brake (civilian flight) or rapid fire (military flight, space simulation) control
Multidirectional hat switch (for panoramic view)
Ergonomic design for optimum comfort
Wide hand rest for reduced stress
Weighted base for enhanced stability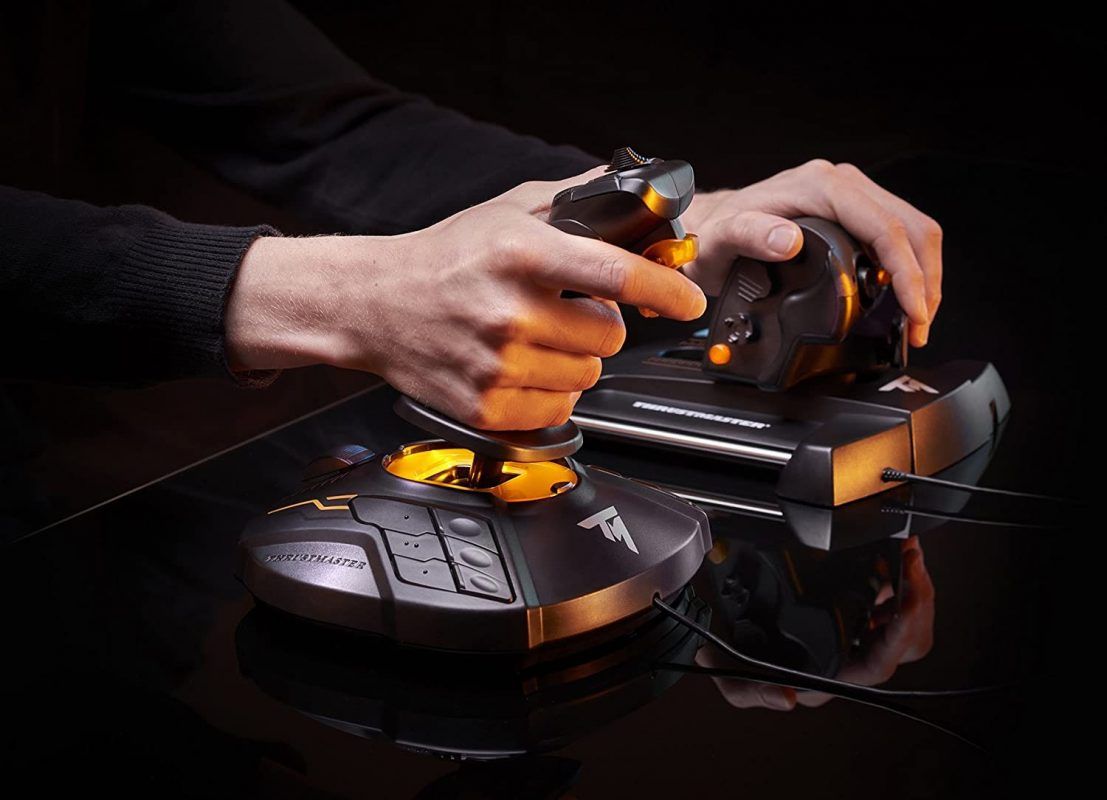 TWCS throttle
To give simmers complete control, the TWCS throttle includes 14 buttons and one 8-way-PoV hat switch that are added to those of the joystick. In total, this provides gamers with 9 axes, 30 buttons and two 8-way PoVs – plus 3 extra axes via the optional TFRP rudder*.
The TWCS throttle features 5axes and a rear RJ12 connector offering 3 additional axes via the external optional TFRP rudder* from Thrustmaster's flight product ecosystem.
TWCS (Thrustmaster Weapon Control System) throttle: use your left hand to increase your combat speed and manage your spaceship or jet fighter.
The TWCS throttle's lower positioning compared to quadrant-based systems provides unrivalled comfort.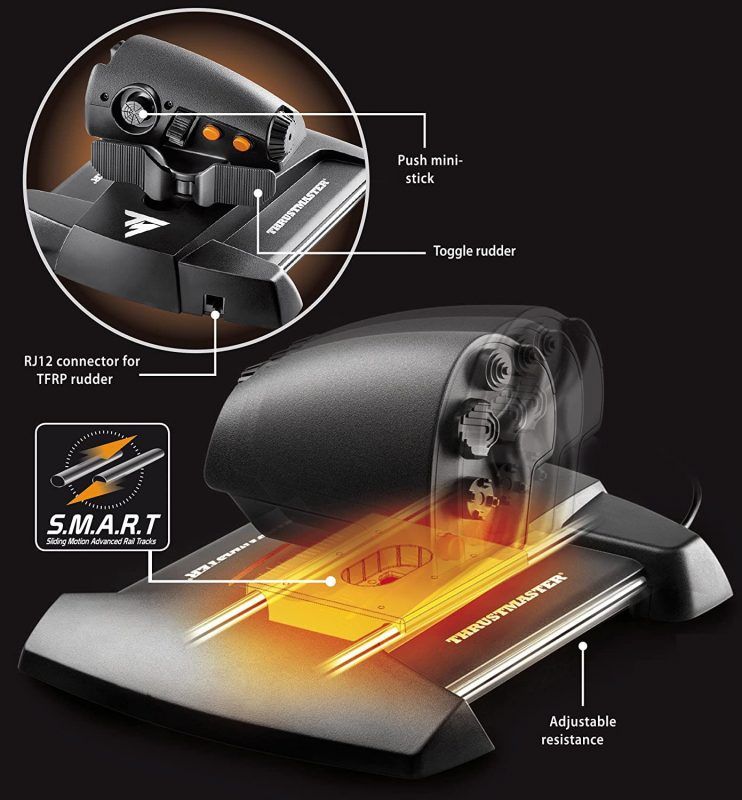 Large differential brake pedals: 10 inches/25 centimeters (12/45 shoe size).
Rounded central pivot with central grip, on the differential brake's axis.
Pivot angle with a 15° range of travel: on an incline for deliberate activation, avoiding inadvertent activation when using the rudder.

In the box Thrustmaster T.16000M FCS Flight Pack
Thrustmaster T.16000M FCS flight stick
Thrustmaster TWCS Throttle
Thrustmaster T.Flight Rudder Pedals
Owner's manual
Warranty Bill 6 months
Free shipping Vietnam